An introduction from our Managing Director
"Whether it's for personal or business use, insurance is essential for most of us.
For many, paying a hefty insurance premium in one go can put a strain on the budget - but this is where Premium Credit can provide an alternative affordable solution. Since 2004, Premium Credit Ireland who are regulated by the Central Bank of Ireland have helped businesses and individuals pay for their insurance by spreading the costs over regular instalments, instead of paying the whole premium up front.
But we do much more besides. Premium Credit also provides the finance to pay annual costs such as professional fees and membership subscriptions. In Ireland, we have 75,000 customers, processing nearly a million Direct Debits, achieving advances of €250m annually. We work closely with the leading organisations and umbrella groups within our chosen markets and indeed are delighted to hold Preferred Supplier status with many including Brokers Ireland, Broker Line Direct, Brokers Federation of Ireland, Irish Chartered Accountants of Ireland (ICAI) and Irish Golf and Club Managers Association of Ireland (IGCMA).
We believe that one of the many benefits to our intermediaries of being part of the Premium Credit group is that they will have the comfort of knowing they are being serviced by the market leader who in turn is endorsed by the market professionals.
That's why we're the number one insurance premium finance company in Ireland as well as the UK.
Our overall goal is to make it easy for intermediaries and customers to interact with us, in any way they want. In today's world most of that interaction is online, and needs to be as simple and as streamlined as possible. We therefore will continue to invest heavily in our technology to support our growth plans in the market. All of this being supported by a locally based superior service delivered from our operations teams in Sandyford, Dublin 18."
Ger Shannon, Managing Director, Ireland
Values
Our culture is built upon our four company values:
Considerate
We act with honesty and integrity, and put customer needs at the heart of everything we do.
Collaborative
We work, succeed and celebrate together.
Accountable
We take accountability for our actions, honour our promises and make sure we learn from our mistakes.
Driven
Our aim is for excellence and continuous improvement.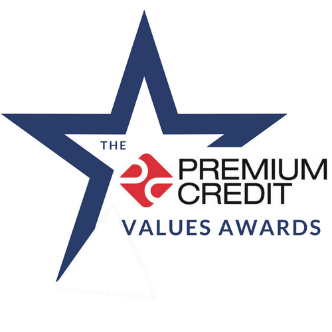 We seek to promote these values by rewarding employees who exemplify them with our quarterly Values Awards

Employees & Market Coverage
Premium Credit employs over 400 people, the majority based in our Leatherhead and Dublin Head Offices. Additional field-based employees give us coverage across the whole of UK and Ireland.