Premium Credit Limited Modern Slavery and Human Trafficking statement for the financial year ended 31 December 2017
Introduction
Premium Credit Limited (PCL) is committed to carrying out business responsibly, which includes ensuring that slavery and human trafficking are not taking place in any part of the business or supply chain. This statement sets out PCL's actions to understand all potential modern slavery risks related to its business and to put in place steps that are aimed at ensuring that there is no slavery or human trafficking in its own business or its supply chains.
1.0 Organisational structure and supply chains
PCL is the market leading provider of insurance premium finance in the UK and Ireland. The Company also provides finance to pay annual fees such as accountancy and school fees. PCL supports 3,000 intermediaries in its chosen markets and serves over 2.2 million customers. PCL is regulated by the Financial Conduct Authority in the UK, and the Central Bank of Ireland.
PCL employees approximately 400 people. Most employees are based on one site in the UK in Leatherhead, Surrey, and in addition there is a team of sales and compliance representatives who travel around the UK. There is an Irish office in Dublin, where approximately 20 employees work.
2.0 Assessing and managing the risk
PCL has reviewed its own business and material suppliers, and assessed whether any risks of slavery or human trafficking arise. Risk is managed by using suppliers whom PCL consider to be reputable, and PCL has specifically requested that all material regular suppliers in these areas confirm that their own business activities do not involve slavery or human trafficking.
The supply chain is not extensive and is comprised mainly of outsourced services which include contact centre and business processing operations; IT support and development; facilities and cleaning services. Other suppliers provide software. Most of the suppliers are UK based, with one notable exception providing business processing and IT support in India. During 2017, visits were made to observe the outsourced work in India and the contact centre in the UK.
3.0 Relevant policies
PCL operates the following policies that describe its approach to the identification of modern slavery risks and steps to be taken to prevent slavery and human trafficking in its operations:
Whistleblowing policy - The organisation encourages all its workers, customers and other business partners to report any concerns related to the direct activities, or the supply chains of, the organisation. This includes any circumstances that may give rise to an enhanced risk of slavery or human trafficking. PCL's whistleblowing procedure is designed to make it easy for workers to make disclosures, without fear of retaliation.
Code of conduct - PCL's code makes clear to employees the actions and behaviour expected of them when representing the organisation. The organisation strives to maintain the highest standards of employee conduct and ethical behaviour when operating abroad and managing its supply chain.
Procurement policy - The organisation is committed to ensuring that its suppliers adhere to the highest standards of ethics. Suppliers are required to demonstrate that they provide safe working conditions where necessary, treat workers with dignity and respect, and act ethically and within the law in their use of labour.
Outsourcing policy - The organisation uses only specified, reputable employment agencies to source labour or provide services, and always verifies the practices of any new provider it is using before accepting workers or services.
4.0 Due diligence
PCL undertakes due diligence when considering taking on new suppliers, and regularly reviews its existing suppliers. PCL's due diligence questionnaire includes relevant questions and considerations relating to modern slavery and human trafficking.
5.0 Training
In 2017, training was completed by employees involved in procurement and management of supplier relationships including colleagues in IT, Finance, E-commerce, Marketing, Operations and the HR team. Relevant new joiners have completed the training and this population will be invited to complete refresher training every two years.
Training includes how to assess the risk of slavery and human trafficking, how to identify signs and what steps to take if slavery or human trafficking is suspected. The focus is particularly on the expectations that PCL has of suppliers and contractors in maintaining an environment that is free from slavery and human trafficking.
6.0 Performance indicators
PCL has identified the following key performance indicators (KPIs) to ensure that good practices are maintained: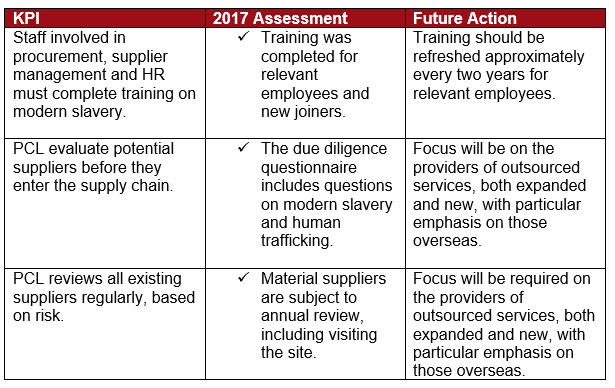 7.0 Our continuing plan
Over the course of the next year, PCL will continue to engage with its suppliers and contractors, to train appropriate colleagues and to promote awareness of policies throughout the company. During 2018, PCL will be running training on Dignity at Work for all employees which will include awareness of the risks of slavery and human trafficking and the responsibilities that PCL has. PCL is increasing its outsourced activities in 2018 which will require due diligence and ongoing monitoring.
Board approval
This statement is made with respect to the financial year ended 31 December 2017 in accordance with section 54(1) of the Modern Slavery Act 2015 and has been approved by the Premium Credit Limited Board. The statement will be reviewed and (if necessary) updated annually to reflect Premium Credit Limited's ongoing commitment to ensuring that its business and supply chains are free from slavery and human trafficking.

Tom Woolgrove, Chief Executive Officer