The Gender Pay Gap
The gender pay gap is an equality measure that shows the difference in average earnings between women and men. The Equality Act 2010, as amended (Gender Pay Gap Information) Regulations 2017, aims to tackle the gender pay gap that exists in organisations and provide transparency around gender pay gap differences. The regulation requires employers with more than 250 employees to report to the government, and make publicly available, their gender pay gap metrics.
The table below shows our overall mean and median gender pay gap based on hourly rates of pay as at the snapshot date (5 April 2017). It also captures the mean and median difference between bonuses paid to men and women at Premium Credit in the year up to 5 April 2017, i.e. for the 2016 performance year (bonuses are normally paid in February).
Premium Credit Limited Human Rights and Diversity
We want Premium Credit to be a company people want to work for, and where they feel welcomed and involved at all levels, regardless of their race, ethnicity, gender, age, disability, religion or belief, sexual orientation, marital status, gender reassignment, and during and after pregnancy and maternity. Our pay strategy is designed to support this and our diversity and inclusion practices are in line with the Universal Declaration of Human Rights.
Premium Credit Limited Gender Pay Gap
"The calculation behind the gender pay gap is not the same as equal pay"


The underlying reason behind our gender pay gap is predominantly due to the lower representation of women in senior leadership positions and IT roles within our business. The bonus gap is also affected by lower representation of women in sales roles. We are confident that we do not have any processes or practices which would see people being paid differently due to their gender. To reiterate, the calculation behind the gender pay gap is not the same as equal pay.
In line with the way in which we must report according to the regulations, we have organised our gender pay gap distribution by the quartile pie charts below, using data as at the end of April 2017 (i.e. if you split the fixed pay data into four equal parts, how many men and women are in each quartile?) Female representation is higher in both quartiles 1 and 2; it is in our upper quartiles (3 and 4) where representation shows an imbalance.
To understand the information better, we have also calculated the pay gap for each quartile. In the lower quartile, females are paid 3% more than males. The pay gap in the three lower quartiles is 3% or less. The most significant pay gap by some margin is in the upper quartile, which has the lowest representation of women of the quartiles (82% male, 18% female).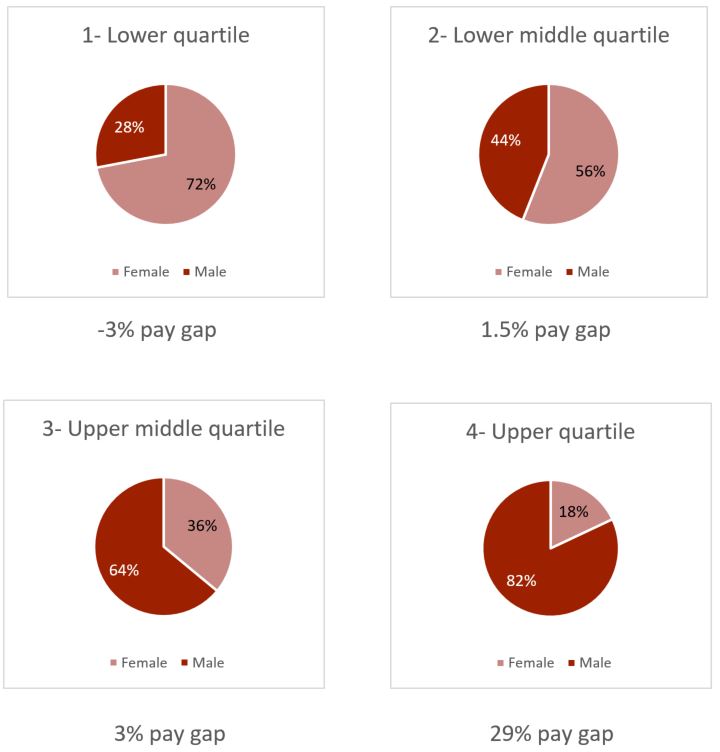 Actions
We want to ensure our workforce is diverse and inclusive, and our culture aligns to our values of being collaborative and considerate towards one another.
During 2018, the key actions that Premium Credit is taking to improve diversity and inclusion are:
We will continue to listen to colleagues, through our Colleague Opinion and Pulse surveys, to improve our practices and policies to help inclusion. In 2017, we updated our Family Leave and Dignity at Work policies, and improved many of our benefits, including maternity pay.

We will have one member of our senior executive team specifically sponsoring diversity and inclusion.

We will ensure that diversity is be a priority topic for discussion and gain input from colleagues at our colleague engagement group, Team Premium.

We will include diversity in the content of our Premium Credit Management Programme.

We will roll out training on Unconscious Bias.

We will expect a diversified recruitment shortlist for all management positions, meaning appropriate representation of male and female candidates being put forward for interviews.

We will support colleagues, wherever possible, to balance commitments outside of work.
In Conclusion
Whilst we acknowledge we have a gender pay gap, we are clear on why it exists and are focused on the steps we need to take to close the gap we see today. This makes it clear that we need more of a balance in the numbers of men and women at our senior organisational levels where the pay gap is greatest. We aim to ensure that women are not only better represented at senior levels within Premium Credit, but most importantly, supported to develop and progress. We also need to increase the representation of women in IT and sales roles. We are confident that if we increase female representation in senior positions, then the gender pay gap will reduce. We are also confident that the actions listed above will further develop our culture.
I confirm that the data is accurate.

Tom Woolgrove
Chief Executive
March 2018